Necessity is the mother of invention: How crises drive innovation
Crises have characterized the rhythm of economic cycles for centuries.

Innovations have always been regarded as essential instruments for adapting to a changing environment and thus ensuring corporate success for the future.

But how are companies responding today to the upheavals triggered by the COVID 19 pandemic, and what success factors will secure tomorrow's business?
A review of the year
The experiences and customer projects of the past months have shown us that crises also consistently mean new opportunities: While LEAD Innovation did not have a single customer inquiry in the area of innovation strategy in the first year of the crisis in 2020, the focus in 2021 was clearly on building new business models.
At the beginning of the crisis, all the projects we carried out were geared toward quickly reinventing something. The reason for this is obvious: the pandemic changed economic conditions and customer needs in many ways. Companies needed fast and effective solutions to maintain their competitiveness. Numerous innovations were implemented - at a pace that was hardly conceivable before.
With 2021, this trend suddenly reversed. Strategic topics such as new business or the establishment of sustainable innovation management came to the fore again. In many of our current projects, the focus is now on generating new business opportunities with the aim of establishing a second or third pillar.
So while companies were "driving on sight" with innovations that could be implemented quickly in the first year of the crisis, the focus now is mostly on improving strategic innovation processes in order to strengthen innovative power in the long term and be optimally prepared for the coming crises.
Success factor 1: Flexible adaptation of business models
As already mentioned, the pandemic led to new customer needs in many areas. Companies that quickly recognized this and adapted their business models and core business processes accordingly came through the crisis well. In many cases, companies lacked this flexibility and suffered significant sales losses.

One example of this is the kitchen trade: Anyone who wants to buy a kitchen usually has to have it planned in a furniture store. However, all furniture stores were closed during the lockdowns and were therefore unable to sell kitchens. With the exception of IKEA, where it has been possible to plan kitchens online for years. Customers flocked there in droves, giving the Swedish furniture store a nice increase in sales.

Of course, it is not possible to set up IKEA-style online planning overnight. However, a rapid adaptation of the sales process would have been conceivably easy to implement in the form of online planning meetings. This variant even offers advantages. The customer can show the planner the situation on site via tablet or smartphone, communicate his wishes clearly and discuss different variants.
Success factor 2: Shaping the future yourself and not leaving it to chance
Not only a lack of flexibility, but also the "sitting out" of problems and slow decision-making processes result in considerable competitive disadvantages. The early bird catches the worm. Amazon founder Jeff Bezos recognized this back in 1997:
Jeff Bezos' Day 1 philosophy
In a letter to his shareholders, Bezos outlined his "Every Day is Day One" philosophy, according to which a company should always maintain the vitality of its founding day. Day two, for Bezos, means stagnation. To stay in startup mode, Bezos recommends adhering to several principles of action:
Focus on the customer

Make decisions quickly

Identify undesirable developments quickly and correct them immediately

Adapt new trends instead of fighting them

Focus on results instead of processes

Accepting uncertainty
The Tag 1 philosophy has made Amazon one of the largest companies in the world.

Tesla shows how this can be successfully applied even in times of crisis:
Tesla's innovation in car sales
In many cases, car dealers were unable to deliver their vehicles during the lockdown because many sales employees were in their home offices. Cars were held in stock and buyers were put off. Tesla, on the other hand, took a different approach and switched completely to contactless delivery as early as April 2020.

Tesla is the only car company that reacted immediately and quickly made a decision to solve the problem. Quite in contrast to all other manufacturers, who had been counting on a quick end to the pandemic. Speed creates competitive advantage; it's not for nothing that Tesla is the only brand growing despite COVID-19.
Best Practice: Innovation in times of crisis using the example of LEAD Horizon.
LEAD Horizon is a painless COVID-19 test developed by LEAD Innovation together with 26 of our network partners from industry and academia. The impetus for this project came with the first lockdown in Austria. Many of our customers cancelled appointments planned for weeks ahead, projects were put on hold and our team suddenly had free resources that wanted to be used. Out of this need, we decided to launch our own innovation project.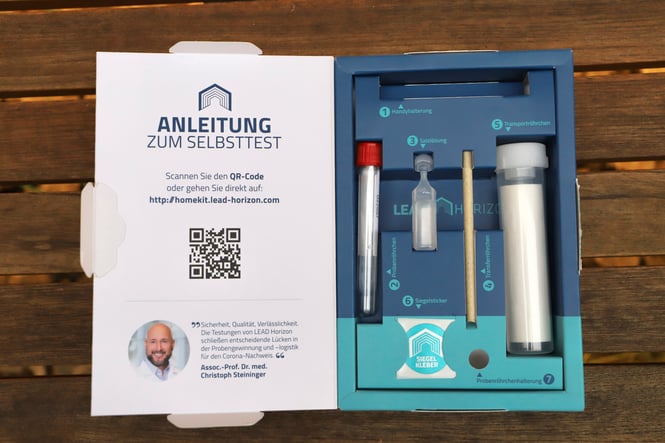 © LEAD Horizon, Michael Putz
The innovation idea
The idea for the Corona test came from our own experience, which helped us identify a "pain point": When a colleague's partner came down with Corona at the beginning of the pandemic, we wanted to play it safe and all take a test. After two hours on hold with the Corona hotline, we finally learned that testing capacity only allowed testing for symptoms. Except for one colleague, no one had symptoms, so no test for everyone else.

The colleague with symptoms went into quarantine and waited there for the testing team. Within 48 hours, the community service workers would come by - it was not clear when, it could be in the middle of the night. Five days then passed before the test result was finally available. These experiences were ultimately the incentive to set up a more efficient testing structure in Austria - with the aim of giving people more flexibility and faster test results.
The implementation
With our LEAD user network, we were able to develop the test very quickly and offer it at BIPA as early as July 2020. The result of the test is delivered directly to the cell phone via app within one working day. We have thus created the possibility of time and location-independent testing that delivers results quickly.
Conclusion: Crises as drivers for innovation
We are experiencing a time of profound technological, economic and social upheaval. Anyone who wants to get through this crisis successfully needs the courage to change and the willingness to innovate. Questioning business models and core business processes is just as much a part of this as flexibility, speed and breaking up old structures.
Daniel ZAPFL
Born in Graz, Austria. CEO of LEAD Innovation, Daniel Zapfl has been responsible for the success of the innovation projects of our innovation partners since January 2018.