How to define your inbound sales process
The balance of power in the buying and selling process is shifting more and more from seller to buyer. In order to keep up with the best informed buyers, the sales process must also change fundamentally. Inbound sales is a method that takes this development into account. In this article we will show you how to set up an inbound sales process in 6 steps.
Inbound Sales versus Outbound Sales
In inbound sales, the methodology of inbound marketing is transferred to the sales process of a company. Outbound methods such as cold calling or ad placement take a back seat. Instead, the sales employee concentrates on the buyer's journey and the problems and needs of the customer. Before even a single phone call is made, the sales representative gets detailed information about the buyer's world. This enables a personal sales approach that is precisely tailored to the potential customer and optimally supports him in the purchasing process.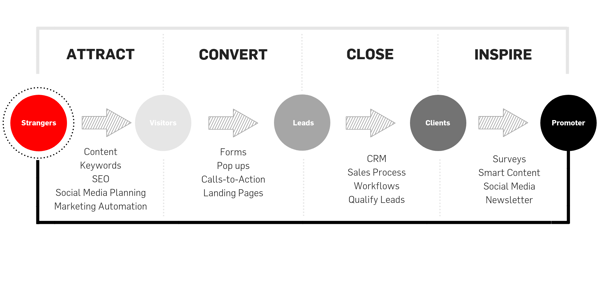 1. Definition of targets and buyer personas as a basis
Targets and buyer personas are the basis to set up a meaningful marketing and sales process.
At the beginning of the process there is the definition of targets. In concrete terms, this refers to companies that are relevant to your sales. For example, one target could be: "We want to work with owner-managed, manufacturing companies that have more than 2,000 employees.
Building on this, the profile of your ideal customer is refined by defining buyer personas. A buyer persona has a concrete face compared to a target group. It is an ideal-typical imaginary customer whose behavior, goals, wishes and buying behavior have been defined on the basis of empirical research. Details can be found in our blog "Definition Buyer Personas - Who is behind your target group?"
With this concept you can better understand the needs, challenges and actions of your ideal customer and better tailor your marketing process and sales process to potential customers.
2. Identify qualified leads
The aim of this step is to filter out those leads that are worth pursuing.
As soon as a "stranger" visits your website and becomes a "lead", for example by subscribing to a newsletter or downloading a white paper, the lead should be qualified promptly.
This is done by comparing the already available data of the lead with the previously defined targets and buyer personas: Is the interested person working in a target company? Does he hold a position that is relevant for decision-making (e.g. managing director, sales manager)? Does the profile of the person/company always suit us?
The qualification can be done manually with a manageable number of leads. As soon as you generate a higher number of leads, it is advisable to automatically capture qualified leads using a marketing automation system - for example, the hubspot we use.
3. Connect Call - First contact with qualified leads
The first personal telephone contact is used to gather information and evaluate whether further investment should be made in the leads.
The Connect Call clarifies why the lead is interested in your offer and whether there is currently a need where you can help with your product or service. The interview does not take longer than 15 minutes. The aim is to arrange an exploratory call of about one hour if the lead is of interest to you.
4. Exploratory Call – Clarify need and maturity level
Exploratory Call is about clarifying and understanding the specific needs of the lead and getting an idea of how interesting the potential customer is for you.
Um Leads entsprechend ihres Reifegrades zu kategorisieren, können Sie das BANT-Modell verwenden:
Budget: What financial resources are available to your lead? Has the budget already been approved or at least applied for?
Authority: What decision-making authority does your lead have? Is he the sole decision maker, member of the decision maker group, opinion leader or an influencer?
Need: What is the concrete need of your lead? Does he really need your product or service? Is the demand already clearly defined or does the person just want to inform himself?
Time: Within which timeline is a procurement or investment planned? Is there an urgency to purchase your product or service? If, for example, the interested party plans to purchase your product or service within the next few months, it can be classified as a sales opportunity. However, if he is bound by another contract for another two years, a medium-term assignment is hardly possible.
This means that your lead should have a budget and decision-making power, there should be a concrete need in your company and there should be a time when the purchase must be completed. If one of these four criteria is not met, the potential customer is not a highly qualified lead for you at least at this point in time.
5. Offer and completion
Create an offer that is tailored to the highly qualified lead.
When preparing an offer, it is important to ensure that you do not prepare an off-the-shelf offer - unless you expressly wish to do so. In order to increase the chances of winning a deal, you should consider the customer's needs and deliver a tailor-made offer accordingly.
6. Customer Delight
Make your customers happy even after graduation and support them.
The last phase "Delight" is not directly depicted in the sales process, but it is important for the achievement of repurchases. If you make your customers happy even after the deal, e.g. through good support or helpful content offers, the chances of repurchases and recommendations increase.
Conclusio: Inbound Sales Prozess
The purchasing process has changed fundamentally. Not only B2C customers, but also 90 percent of B2B decision-makers are now using Google to find out about planned investments and procurement processes. Up to 57 percent of the purchasing process has already been completed before a customer makes contact with a potential provider. Inbound Sales is a personalized and helpful sales methodology that adapts to this new user behavior and implements the marketing of products, services and innovations in a timely manner.
Angela HENGSBERGER
Born and raised in Vienna. Since 2012 she has been in charge of Business Development at LEAD Innovation with the functions marketing, sales and communication.