5 innovative building materials of the future
Innovative building materials can make a major contribution to resource efficiency. In the following we will show you some selected examples from research and construction practice that hold high future potential.
Innovative base plates with 70 percent weight reduction
Researchers in the Department of Architecture at ETH Zurich have developed concrete floor elements that do not require steel reinforcement and are 70 percent lighter than conventional concrete floors. The secret of weight reduction lies in the curved and geometrically shaped plates, which are based on the old building techniques of vaults in cathedrals.
The supporting slab of the floor elements is only two centimetres thick and does not require any reinforcement steel due to its shape. In order to reduce costs in the production of the elements, the company did not work with moulds as usual, but with 3D printing. However, the elements were not made of concrete, but of sand in combination with a special binder. Philippe Block of ETH Zurich explains the innovative system as follows:
"It is simply sand held together by a simple binder. The material is really soft, this little piece could simply be broken off by hand. But if you shape it in such a way that it absorbs the forces - which we have discovered through a self-developed algorithm - then you can run on this soft material. And you have a safe structure that's 70 percent lighter than conventional ceilings."
The new floor slabs are now being tested on the roof of the research building NEST, where a two-storey, lightweight guest penthouse is to be built. For this purpose, floor elements measuring 5 x 5 metres are prefabricated in modules and then installed on site. Pipes for ventilation, cooling and heating can be laid in the cavities between the concrete ribs, which saves additional space.
Detailed information can be found in Phillippe Block's presentation:
Invisible acoustic coating for round surfaces
Although many acoustic solutions serve their purpose, they are often unable to meet the aesthetic requirements of the architecture. The highly innovative and sustainably produced BASWA system solves this problem with a discreet and invisible acoustic solution. This innovative building material creates a completely smooth ceiling that is acoustically highly active and filters out any reverberation. Even round or curved surfaces can be coated with it without any problems sound-absorbing. Compared to conventional solutions, the system offers a further significant advantage by being combinable with a cooling ceiling.
Photo: Trockenbau Weissmann GmbH, Project: Bellis Bar in Copenhagen
Carbon concrete: High load-bearing capacity, light and sustainable
The new composite material carbon concrete (textile concrete) has the potential to revolutionize the entire architecture. The high-performance material is a combination of concrete and carbon fibres. It has more strength, durability and lightness than conventional concrete. The most outstanding advantages of the material are:
Carbon does not rust. Therefore, in contrast to reinforced concrete, no thick concrete layers are required to protect the carbon. The sand consumption and the CO2 emissions associated with the production of reinforced concrete can be significantly reduced.
The building material can be produced from any material containing carbon. For example, researchers are currently using lignins, a waste product produced during wood production.
The load-bearing capacity with carbon is five to six times higher than with reinforced concrete.
The carbon version is four times lighter and also has a significantly longer service life.
The cost of carbon concrete appears very high at around twenty euros compared to reinforced concrete at one euro per kilogram. If, however, the material savings of around 75 percent and the longevity, strength and corrosion resistance of the material are taken into account, the costs are offset.
The first carbon house is to be built on the campus of the Technical University of Dresden as early as 2019. The "C³ - Carbon Concrete Composite" consortium led by the TU has estimated construction costs of around 5 million euros for the two-storey reference project.
"The C-Cube is intended to illustrate the properties of carbon concrete and be a prime example of filigree, light and slim construction", emphasises C³ Chairman of the Board Prof. Manfred Curbach, who heads the Institute for Solid Construction at Dresden Technical University.
You can read more about the manufacturing process here:
Load-bearing wood concrete for residential and office buildings
A further innovation in the field of concrete production was recently presented by researchers of the Swiss research programme "Resource Wood" (NRP 66) using the innovative, sustainable building material "Wood Concrete". The gravel and sand content is replaced by finely ground wood, i.e. sawdust is mixed into the cement instead of small stones. In some mixtures, the building material has a proportion by volume of more than 50 percent wood. This makes it significantly lighter than conventional concrete.
An eight-metre-long wood- and wood-cement composite panel is currently being tested at the University of Applied Sciences in Freiburg. Although it weighs only a third of an equally strong, normal concrete slab, this new type of composite material could basically be used in residential and office buildings.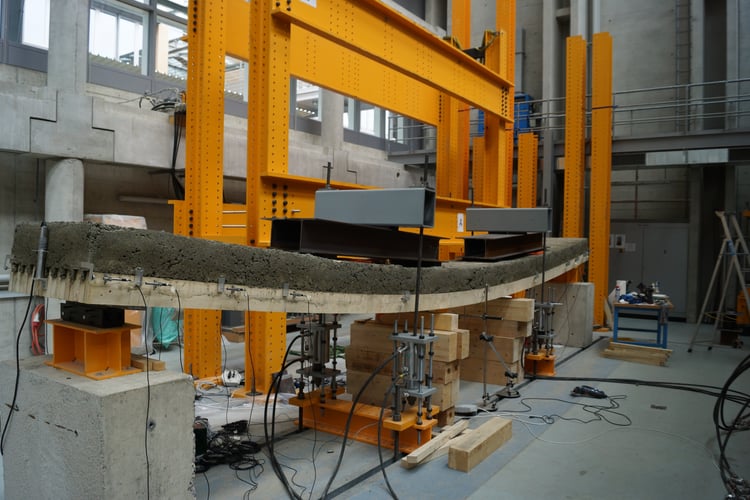 Photo: Daia Zwicky, Institute for Building and Environmental Technologies iTEC, HES-SO University of Applied Sciences Fribourg
"They weigh no more than half the weight of normal concrete - the lightest even float. It will probably be several years before the first buildings are built in which lightweight wood concrete literally plays a major role. The knowledge for practical application on a large scale is still too limited," explains Daia Zwicky, head of the Institute for Building and Environmental Technologies at Fribourg University of Applied Sciences.
Initial load tests on a 1:1 scale have shown that the innovative wood concrete can also be used in ceiling and wall elements and can assume a supporting function in the construction. The researchers are currently testing which compounds are optimally suited for which applications. The team is also working on efficient manufacturing processes.
Super material: ultra-light and ten times harder than steel
The innovative building material was developed by scientists from the Massachusetts Institute of Technology (MIT). The material is lighter than plastic and consists of a layer of honeycomb carbon atoms.
"Our new super material consists of graphene flakes which are compressed and compressed into a large web covered with cobwebs. The material has a fluffy structure that looks a bit like a psychedelic sea creature. The coral-like structure is almost completely hollow and has a density of only five percent of conventional graphene," explains MIT project manager Markus J. Buehler.
In the future, the high-tech material can be used to build bridges that are ultra-hard, lightweight and extremely heat-resistant.
Conclusion: Innovative building materials of the future
The construction industry needs innovative building materials and sustainable solutions to meet the complex ecological and economic requirements of the 21st century. High-performance and durable building materials that conserve resources and at the same time increase productivity are in demand. In addition to high-tech building materials and smart building materials, this also includes innovative facade materials or new building techniques such as 3D printing of houses.
Daniel ZAPFL
Born in Graz, Austria. CEO of LEAD Innovation, Daniel Zapfl has been responsible for the success of the innovation projects of our innovation partners since January 2018.