Future timing. When to plan innovations.
The path to market success requires strategy and planning. You can read about how and when to best plan innovations in this article.
Before an innovation comes to fruition, you should take a look at the past from a company perspective. What made my company successful?

At this point, you can create a list of previous innovations in the form of an innovation family tree. One way to do this is to interview long-time employees, which is helpful for collecting innovations and understanding what innovation means to your own employees. In addition, it serves to improve old innovations or helps to generate inspiration for new strategies and search fields.
The innovation family tree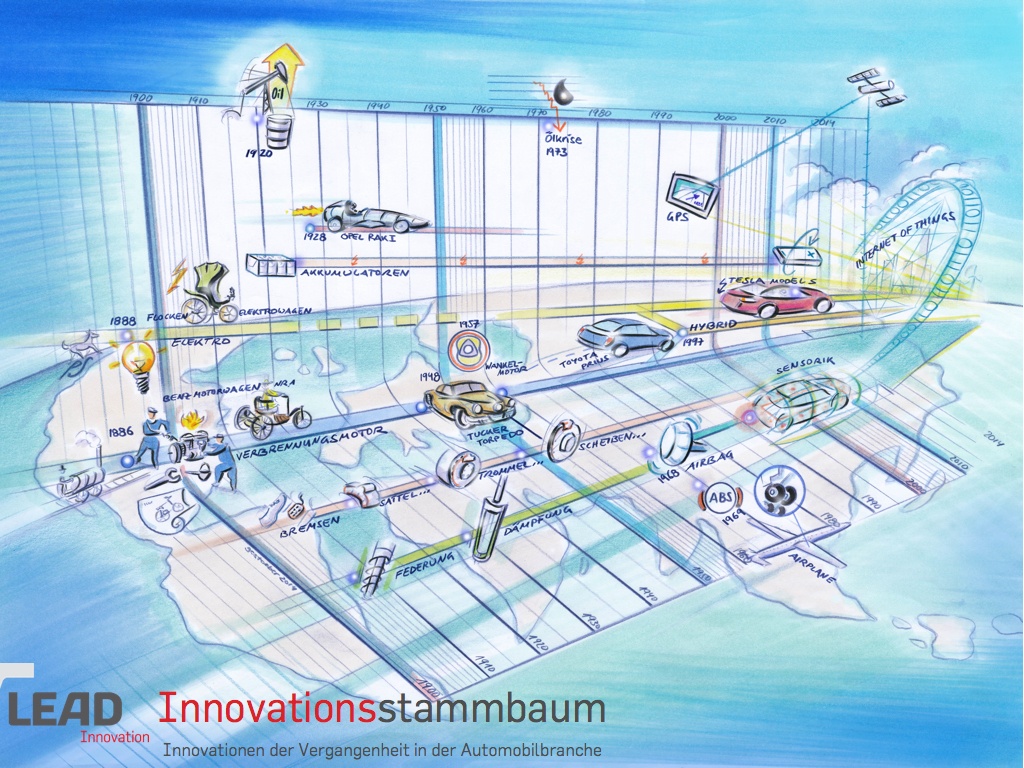 Example of an innovation family tree based on the automotive industry.

The LEAD innovation family tree serves as a graphical representation of a company's past innovations. It creates an overview of the innovations and shows with which innovations you were successful on the market in the past, because important conclusions for the future can be drawn from the past. This innovation family tree includes products, processes, services, structures and business models.

In the next step, you look at whether these innovations are driven by the market (pull innovation) or whether they have been actively pushed into the market from your own research (push innovations). You also question how the innovations came about, whether the innovations were of internal or external origin?

You draw these learnings from the family tree, then define what is an innovation for your company? For example, a general definition of innovation is:

Innovation = Invention + Market Success

From Josef Schumpeter

Then it's all about trends.

What trends are coming in the future, what do my users need, what does the competitive market look like and when will a trend be relevant for my company?
Example Virtual Reality
If a trend, for example virtual reality, catches your eye, internal and external experts should consult on whether this trend could be a future topic for your company. Is it relevant for the company or not? If you decide as a company to incorporate the trend into your innovation strategy, the only question is: when?

Search fields are then derived from the combination of the past and various trends.

These search fields consist of the following parameters:
Target group- WHO?
Timing- WHEN?
Type of innovation- WHAT?
Degree of innovation- HOW NEW?
Search field - exact description of what is to be developed.
It is essential to know which target group I want to reach when with which type of innovation in order to be successful on the market.

What kind of innovation is being implemented, how new it is in terms of its degree of innovation, or whether it is just an adaptation of an innovation from the past, must be determined at this early stage. Is it a known product that can be improved or is something new to the world?

After that, it is important to define the right start for one's project in order to position oneself on the market with one's innovation in a timely manner. Every search field has clearly defined the time factor; it is derived, among other things, from when a trend becomes relevant for my company. From this defined time factor, the team can now calculate back and set the start time of the innovation project for implementation.
Conclusion
In order to identify the "time of the future", it is important to plan the roadmap for one's innovations correctly. First you look into the past, then you analyse trends and derive from this combination search fields including target group, timing, type of innovation and degree of innovation in order to implement a realistic innovation that achieves market success.
Julian Eberling
Born in Vienna. Since 2018 "Certified Service Design Thinker" he has been pursuing his passion as Innovation Manager at LEAD Innovation.