What is Rapid Prototyping?
Rapid prototyping defines a method that enables companies to produce a prototype already in the planning phase of a product. In this way, early detection of flaws, defects or weaknesses in a product can help to avoid high costs for troubleshooting during the product process. Here you can read about the agile methods in which rapid prototyping is used.


The core competence of rapid prototyping is to transform ideas into "tangible" prototypes at the earliest possible stage and to test them on the customer. When applying rapid prototyping in innovation management, it is particularly important that an idea is visualised as quickly as possible.

A common and frequently used example of rapid prototyping is 3D printing. The possibility of producing a quick 3D model using this print variant can save a lot of time and costs in the production process.

In many definitions of the process, rapid prototyping is equated with 3D printing, although other variants, such as a sketch, a video, a flyer or other forms of visualisation of products and services, can also be methods of rapid prototyping, especially in innovation management and agile methods.

The bottom line is that, as a company in a wide variety of fields, you can use this process to try out and test your product on the market before you finance the entire development process.

Rapid prototyping can be applied in any innovation process or development process, but it is currently most frequently used in agile methods. We present the following agile methods and their relation to rapid prototyping in this blog post:


Design Thinking
Design Sprint
Lean Start up
Scrum

Design Thinking, Design Sprint, Lean Startup and Scrum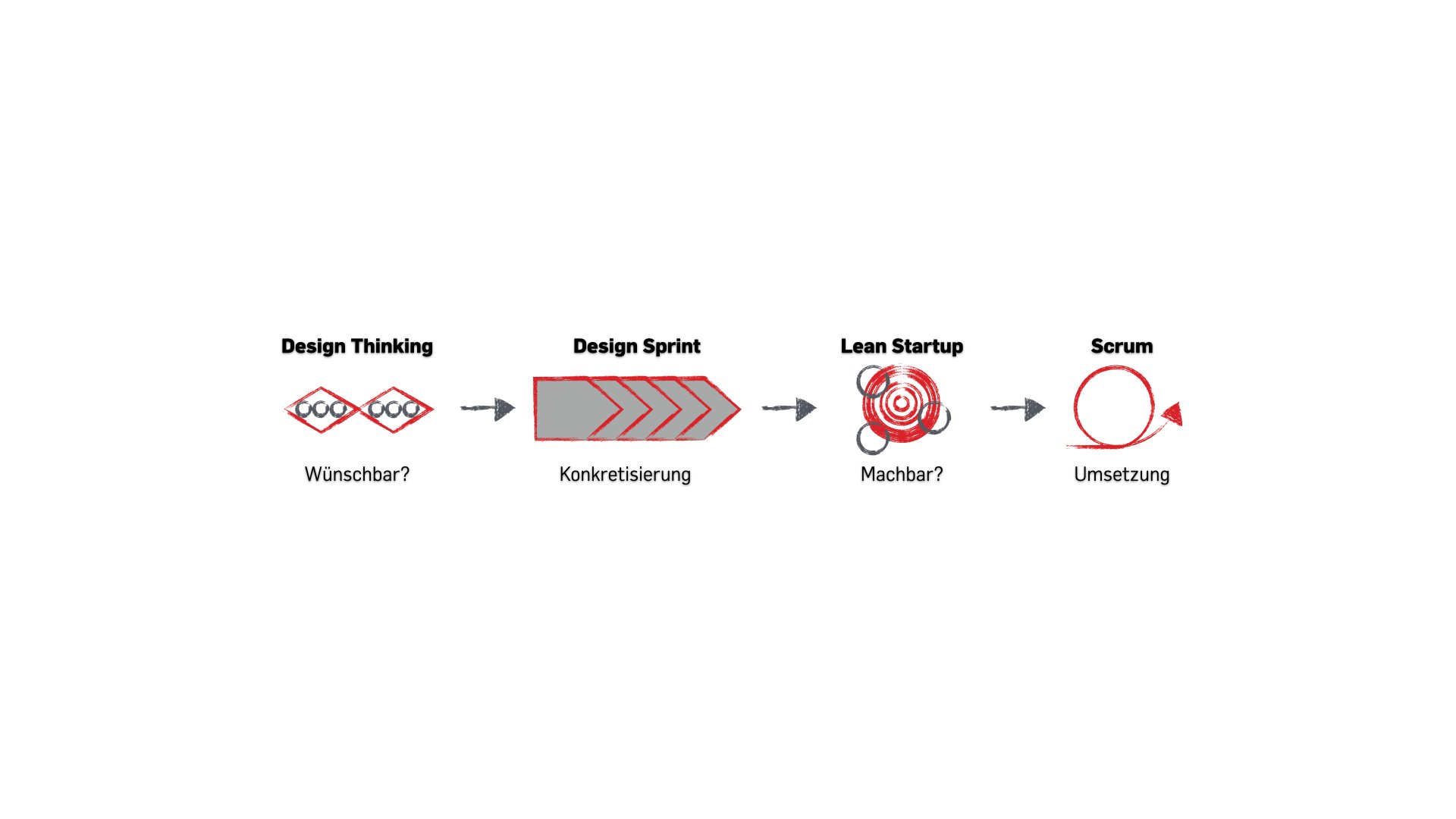 The "beginning" of agile methods is Design Thinking.

This agile method starts before you know exactly where you are going. Before the actual generation of ideas, one deals with the so-called problem space in order to find out what the customer really needs. You go through broad processes in which many ideas are collected, but also discarded. This process can vary greatly in time and last from days to months.

Here it is not yet a question of the concrete direction in which a product will move, because you keep collecting ideas until you have one that is suitable for your product or service for the time being. However, this first hypothesis of an idea then becomes a visualisation as quickly as possible - and so it goes into rapid prototyping.

Another possible form of rapid prototyping takes place in the design sprint, because here the product idea is concretised in a short sprint of one week. After researching what might excite the market, a prototype is already further developed at the end of this process and tested with the customer.

In the next step, Lean Startup can be used, a method that tests what the customer really wants and tries to find out how the prototype is received by the customer. In Lean Startup, one starts with a concrete hypothesis or idea and builds a first quick prototype, which is immediately tested with the aim of rejecting or adapting the hypothesis. In this rapid cycle, ideas are visualised and changed again and again.

In the last step, Scrum can be applied. In this iterative process, the product requirements are already known and the product is developed in several sub-steps. At the end of a sprint - the run-through of a cycle in Scrum, which lasts between 2 and 4 weeks - a prototype or a tangible result is always presented to the customer with the aim of getting feedback as quickly as possible in order to be able to incorporate it in the next sprint and thus to detail the prototype to the finished product.

Rapid prototyping can therefore take place within all agile methods, but usually with a different level of detail.

Examples of rapid prototyping:

Imagine you are developing a new concept for a room landscape for a customer area of a company. After collecting ideas and the product idea is ready for the time being, you develop a "prototype". You build the prototype in a room using simple means: cardboard displays, projected images on the wall, small colour changes or an animated digital visualisation showing the new room landscape. Now it's the turn of the "market research". Based on the customers' reactions, such as the effect of the new room layout through observation or targeted collection of feedback through interviews, it is possible to test in advance what makes the customers feel more comfortable in your environment before you rebuild the entire area.

Why Rapid Prototyping?

If you want to bring a product, a service or a service to the market, you can use this method to create a quick analysis in advance, which will help you to identify the weaknesses and faults of your product early on. Whether it is a service or a tangible product, by creating these prototypes or the rapid prototyping process, you can avoid expensive production and creation costs directly in interviews and through customer observation, as your prototype can be optimised during development and before completion.

As you can see from this article, rapid prototyping is much more than "just" 3D printing a product. It also has its place with the creation of sketches, CAD drawings, "fake" product flyers, storyboards, explainer videos or the mock-up of an app/website. Rapid prototyping can be used in many development areas - from digitalisation, to app development, to classic product development.




Tanja ESCHBERGER
Born in Lower Austria. At LEAD Innovation she works as Head of Innovation and focuses on agile innovation management via SCRUM.